Today, without any time machine, I will move you to the "distant" 2016, and, more precisely, it was almost a new year. Just then this "worthy" copy was born, for some reason completely forgotten on our portal. This is a gross injustice to him, so we rather get to know each otheragain – Think Vape Finder 167W .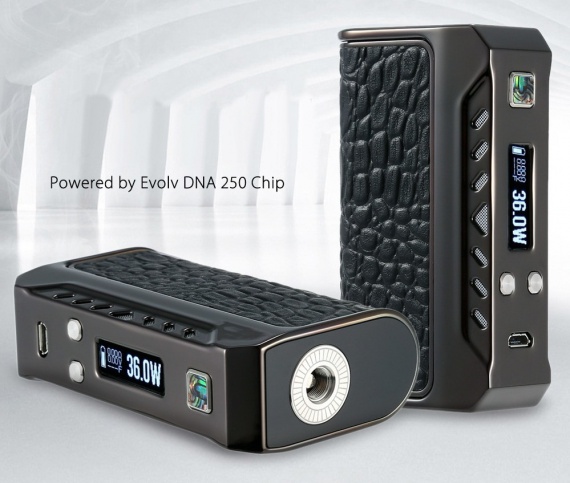 By the way, here you looked at the photo now, but most likely you have already seen it before. Reminds Therion DNA75 Therion DNA75 isnot it … And the most interesting, the release of our hero and Lost Vape Therion 166 Lost Vape Therion 166 took place almost simultaneously … As one TV host said – Coincidence? I do not think.
Dimensions: 92 x 55 x 30mm
Weight: 171g
Case material: zinc alloy + leather
Power supply: 2 x 18650
Chipset: Evolv DNA 250
Output power: 1 – 167W
Voltage range: 0.5 – 9.3V Peak
current: 55A
Operating mode: POWER, TC (NI200, SS, TI), TCR
Temperature range: 200 – 600 ℉ / 100 ℃ – 315 ℃
Supported resistance: 0.08 – 3.0Ω
Protection: from low / high resistance, overheating, from incorrect polarity, short circuit, overcharge / overdischarge
Connector type: steel 510, Pin is gold-plated, spring-loaded
Screen / diagonal: yes, 0.91 "
Micro-USB port / charging:there are
Update / Firmware: yes
Color: black, steel, blue, Copper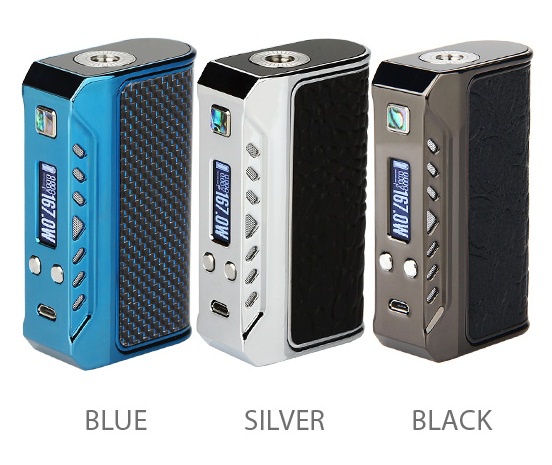 Components
– the Finder 167W mod
– the USB cable
– user manual
– warranty card
– gift wrap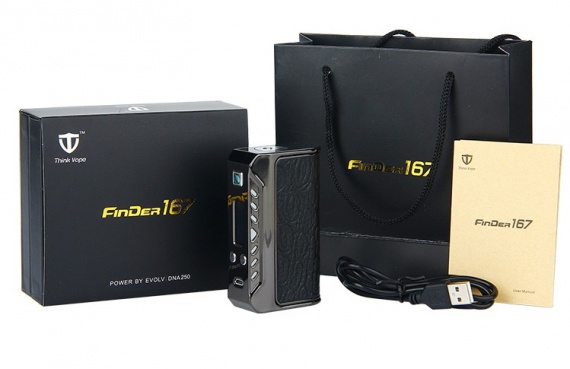 I think at the moment there is no point in discussing the possibility of DNA board, everyone knows that she is worth her money. So we will discuss only the external individual characteristics of the box mod.
The design is now classic, the progenitor in the face of Therion DNA75 is easily recognized. Very good form factor, so loved by the public. But still, you know, I prefer this device. Somehow he looks easier, more pleasant to the eye, not so overloaded with geometric elements or something.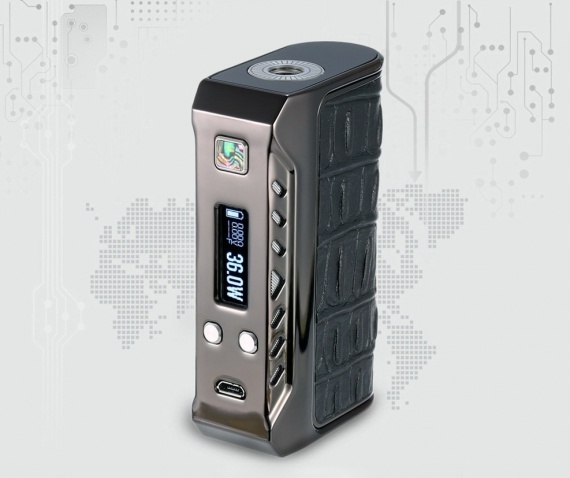 There is also a genuine leather insert, as an element of "prestige". The only thing that "strains" me here is the fire button, which is incomprehensible for which is decorated with a "mother-of-pearl" insert. As for the rest, I will stay with my own opinion, everything is "perfect" here.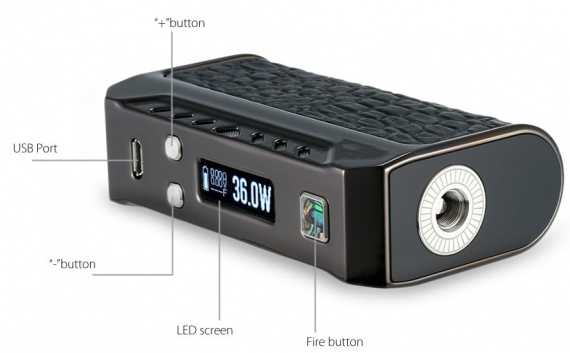 Atomic landing is excellent, except that the landing site is too marking.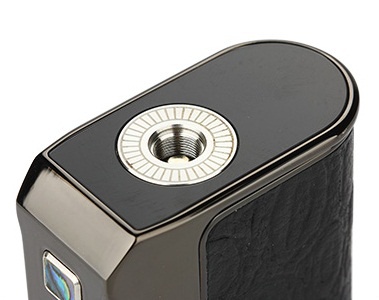 The side panel is also removable, movable, access to the batteries is excellent, and the ribbon is not forgotten.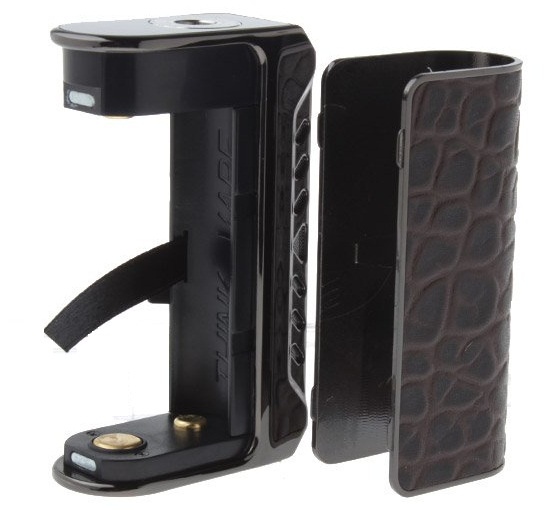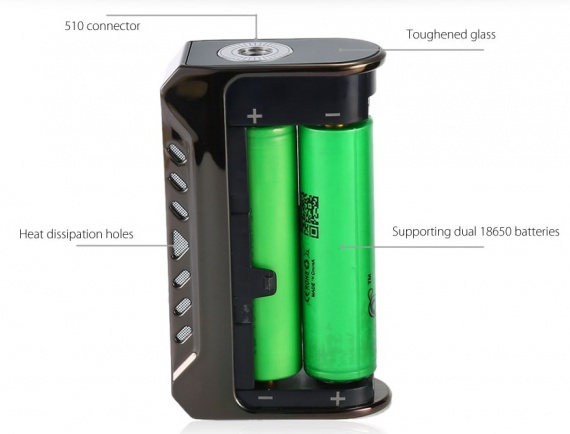 And here the question arises – why the users like Therion 166 so much, and our hero did not feel the gravity of the laurel wreath. Is it all depends only on the marketing program? After all, the price is clearly lower for him …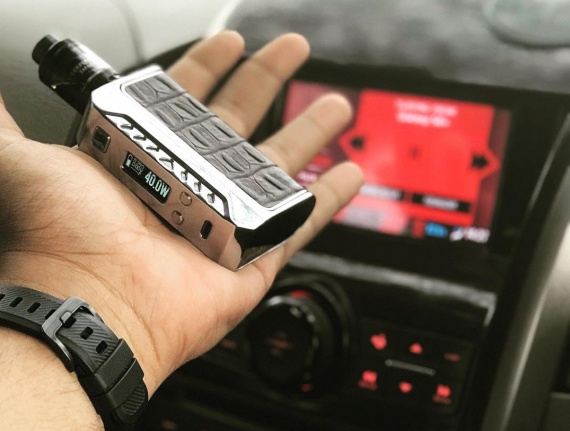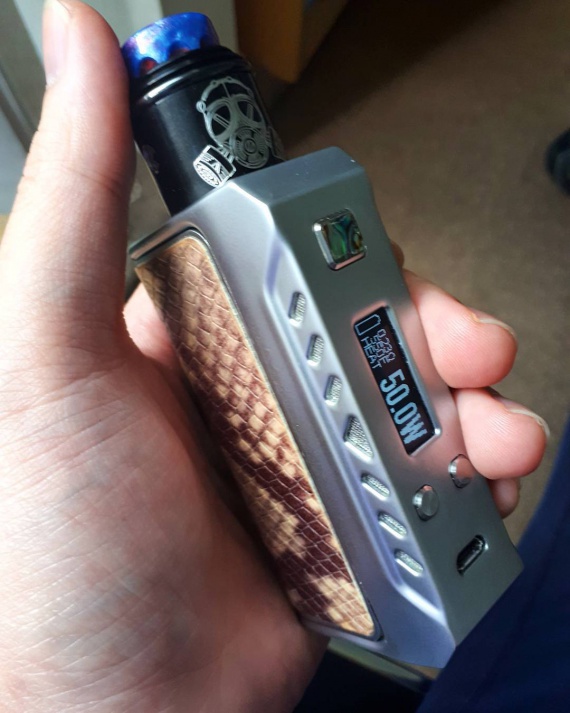 Advantages / disadvantages
+ design
+ performance (chipset)
+ constructive
+ price
Focus On www.ave40.com For More Latest Vape News.
Now It's Available :
Think Vape Finder 250C 300W TC Box Mod with Evolv DNA Chipest
 Hot Sale Recommendation:
Vaporesso Aurora Play Zippo Pod Starter Kit